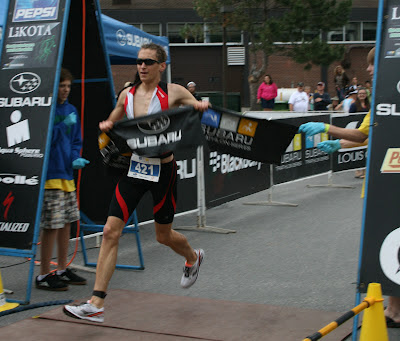 It should not come as a surprise that the demanding training schedule of a sub-sub-elite triathlete affords one little time for social pursuits. However, I had the pleasure of spending last weekend among friends at a cottage owned by the notorious Speedgoggles. Located on a private island deep in the Muskoka wilderness, the cabin is an ideal training camp. Almost makes me want to pull a Quenton Cassidy and become a triathlon/running hermit.
The swim course for the Muskoka Triathlon winds its way up the Muskoka River. Last year I swam too close to shore and a metre long weed snagged on my timing chip. I couldn't kick it off so I dragged it through the rest of the swim and onto the bike where I finally succeeded in removing the scummy thing. Like many pool-trained swimmers, I'm a little phobic about weeds (and fish).
Needless to say, this year I gave the swampy shoreline a wide berth. Things went swimmingly. Four guys and I broke away from the field and formed a tight pack. I relaxed at the back and let the stronger swimmers do the work. I felt great, so I'm hoping that the slow swim split (1:35s/100m) was a result of the current or an inaccurate course.
T1 was a minor fiasco. Some tri-noob racked his hybrid dork-cycle on top of my bike. When I grabbed my bike, his dork-cycle came crashing down across my path. I sincerely apologize to any children and tender souls that may have heard my outburst. I reserve some special language for race day mishaps.
Muskoka is my kind of bike course; it is exceptionally hilly for a triathlon. I waited for a long grinding climb that I remembered from last year to make my move on the leaders. I almost hit 70km/h on the decent and I had to brake to avoid rear-ending the pace car! I posted the fastest bike split for the first time.
Looking extra cool doing a flying dismount.
I came into T2 in the lead and put in a comfortably hard effort on the run. I'm pleased with my 16:41 5k given the hilly course and no fewer than 4 180° turnarounds. I wish I had someone to chase down!
Results
It looks like my next race will be a 5k in Guelph next Wednesday. I'm hoping that
Scott
, my run training partner, will push (or more likely pull) me to a new PB. He's been ripping it up lately in workouts! I promise I won't subject you to any more race reports for a while.